Climate Cafe meeting
Time/Location: Wednesday -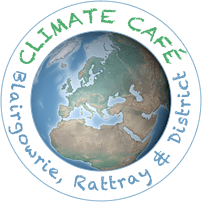 Meeting Time:
1900
Meeting Location:
Link
---
August meeting - Tonight, 7pm Nest Creative Spaces - all welcome.


At the risk of disappointing some people who can only join online, Kay and I feel that we can only manage in person meetings at the moment.
This week (Wednesday starting at 7) we will meet in Nest Creative Spaces in the Wellmeadow, Blairgowrie.
If the technology allows, we will be able to watch a very short but inspiring film about a group of people tackling the climate and cost of living crises in one street in London (but it could be a street anywhere). No doubt it will spark off some discussion amongst us.
Kay and Bill Macgrogor are making progress on the car club idea.
The Climate Cafe coordinators from across Perthshire met recently and we'll have a bit of an update on what came out of that.
Nathan has taken part in two meetings of the Climate Change Commission and (we hope!) will give us an overview of what is coming out of that group.
There's lots going on so the rest of the meeting is up to you - do you have something to update us on, an idea about ways to tackle the climate and nature emergencies?


Best wishes
Kay and Len


PS we will have a stall at the Braemar Day celebrations on September 3rd in the Wellmeadow and plan to run a plastic-free tombola to raise funds for our Climate Cafe. Please let us have any prizes you can spare and let us know if you have anything for us to pick up. Also, please support us on the day.