NEST Creative Spaces
We provide affordable open plan studios, workshop and teaching space for artists, crafters and makers within our local community.
http://www.nestcreativespaces.co.uk
Tel: 07804 240861
Updated: 20:30 Sunday 24 May - information changing daily at the moment so do check with the business direct.
This is a Free listing.
Address:
30 Reform St, Blairgowrie, PH10 6BD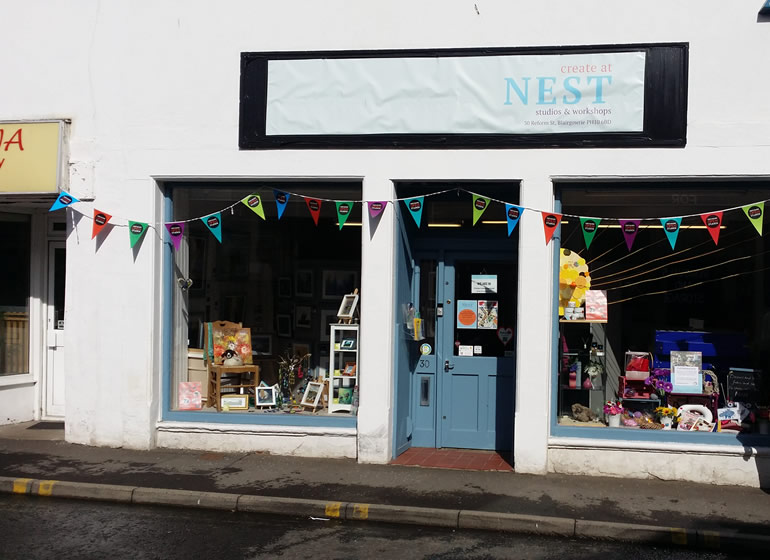 Owner/Manager:

Tracie Dick

Opening Times:

Access to the studios and shop is generally between 10am and 4pm. Separate arrangements can be made with our studio residents.
Gift Shop & Craft Remnant Shop are open Tue to Sat 10am to 2pm.
General access to studios is approx 10am to 2pm.
We provide a range of affordable creative spaces for artists, crafters and makers to make, sell, teach or just meet up with other like minded people.
Gift Shop & Remnant Shop
We have a large craft remnants shop on the first floor selling new and part used crafty stuff galore! Crafty donations are most welcome.
We sell a range of handmade items made on the premises and by local crafters plus we stock a selection of Frenchic chalk paint range.
Personal Studio Space: from £100 per calendar month
Our studio spaces are open plan on the first floor and available to rent on a monthly basis. Studio residents can also sell their products in our gift shop for 20% commission charge.
Workshop Space: from £9 per hour
Our ground floor space is ideal for small meetings and creative workshops and can be arranged as you need with a range of tables and access to the sink. We can also host small exhibitions and craft markets for local artists and makers to showcase and sell their work.
Window Space: £12 per week
Anyone can rent our window from Friday to Friday to showcase and/or sell your work. We manage your sales for a commission charge of 20%.
Visitor workspace
For when the kitchen table just isn't enough and you need more space or you just want to be creative in the company of others, why not come and use our space! Whether it's a couple of hours or a couple of days, if we have space available, you can use it in return for a donation.
Visit our website for full details of our services and for a list of creative workshops and events being held with us.
NEST Creative Spaces
Cost: $
Duration: weeks
Time: -