Blairgowrie and Rattray Illuminations
A team of volunteers who fund raise, maintain and erect the Christmas Lights each and every year
Phone: 07950 213 546
Group continues to meet
Updated: 20:03 Wednesday 21 April - information changes regularly so do check with the group direct.
This listing is managed by: brilluminations@hotmail.com and is a paid for listing - thank you for your support Scott MacGregor. .
Main Contact: Scott MacGregor
Would you like to donate to Blairgowrie and Rattray Illuminations?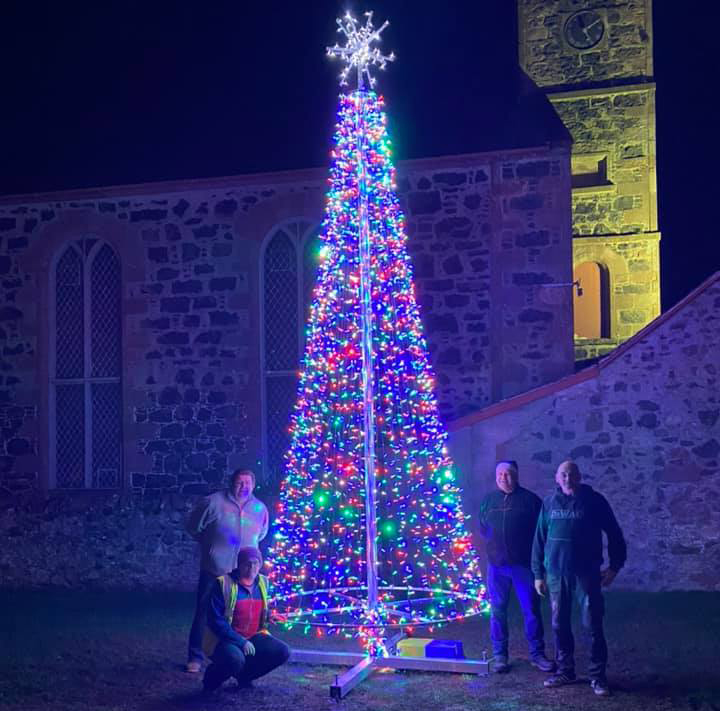 ---
We would like to thank the following for their support during the Christmas Lights and associated events. Their support is very much appreciated as it makes the job of the volunteers much easier.
For allowing electricity supplies to be connected to their premises(mostly donated):
Nickel and Dime
Euan Laing Joinery
Wee Coffee Shop
Masonic Lodge
Subway Blairgowrie
The Workbasket
Davidson Chemists
The Dome
Hodge Solicitors
Crown Bar
Edinburgh Woollen Mill
Mr & Mrs Patton
the Balmoral Hotel
Canine Cuts
Rattray Church and
PKC Lighting Department.
John Gray Solicitors
The Angus Hotel
Braemar Garage
Allsorts
Financial Donations:
Blairgowrie, Rattray & Alyth Quiz League
Kate Fleming
Graham Edwards CA
Blairgowrie & Rattray Highland Games
Roy Sim
W M Coupar
John Gray
All Things Fair
Field & Forest Engineering
Hodge Solicitors
Cornerstone Deli
Piob Mhor
Victor & Sons
Norman Laing & Co
Miller Gerrard
J Crockart & Son
Cunningham Carpets
Royal Bank of Scotland
McNabs Solicitors
TSB, J & J Howe
J B Corrie & Co Ltd
Ladybank Tyres
Blair's Laundry
Robert Gray Carpets
Graham Environmental
Graham Smith Gas Services
Castle Water
The Old Cross Inn
The Lyric Choir
The Rotary Club
Co-Op (Perth Street)
Mr & Mrs Galloway
Tesco Bags of Help.
Other donations:
Algo (Blairgowrie) Ltd (cherry Pickers)
JSR Transport (curtainsider)
Tayside Contracts and Sign Shop (access to yard and power to container)
SCYD (help at switch-on)
Stewart Tanner (forklift)
Matthew McIntyre (forklift) Henry Church (Christmas Tree)
Robert Smith Contractors (help with Christmas tree, storage of sleigh, driving sleigh)
Tayside Police
First Aid Perthshire
Tesco (allowing us to have a raffle)
Mark Low (forklift)
Blairgowrie & Rattray Community Council and
The Old Cross Inn (meeting room)
Refreshments during erection/dismantling lights:
The Cateran Café
The Trefoil Guild
Number Thirty One and
The Old Cross Inn.
Performers at the switch-on for coming out on a cold day:
Blair Bells
the Lyric Choir
Happy Feet Dancers
Blairgowrie & Rattray Drum Corps
Newhill Primary School Choir
AJ Macgregor for piping the Rattray parade down to the Wellmeadow and
Brenda Kerr for leading us all in a festive sing-a-long.
A HUGE THANK YOU to all the volunteers who came out to help with the Tesco Raffle, the erection and dismantling of the lights, the Switch-on and the Santa Sleigh and finally to the residents, voluntary organisations and businesses of Blairgowrie and Rattray for coming out to support our events and contributing to our funds to help us continue the good work we do in making Blairgowrie and Rattray a brighter place to be over the festive period.
Volunteers always needed to help with fundraising events and putting up/dismantling the lights. If you would like to volunteer, please email brilluminations@hotmail.com.
Overview
We are a team of dedicated volunteers who look after, fund raise and put up and take down the Christmas Lights each and every year in Blairgowrie & Rattray. We also fund raise by escorting Santa and his sleigh around the streets every December.
We are always looking for volunteers to help on the committee as well as with erecting and taking down the lights. We'd also love to have a team to help organise the events and activities in the Wellmeadow on Switch On day.
Let us know if you'd like to volunteer - all help welcome.
I'd like to help
Contact Blairgowrie and Rattray Illuminations:
---
Committee:
Chair: Keith Reid
Vice Chair: Scott MacGregor
Treasurer: Margaret Wotherspoon
Member: Euan O'Brien
Member: Catherine Robertson
Member: Angus Steel
Member: Ally Donald
Member: Derek Balloch
Member: John O'Brien

---
Minutes/Documents
No items.
We are waiting for a copy of the constitution.
Articles/Blogs/Stories
No articles blog/stories listed.