Blairgowrie and Glens Carbon Footprint
Date: Thursday 2 June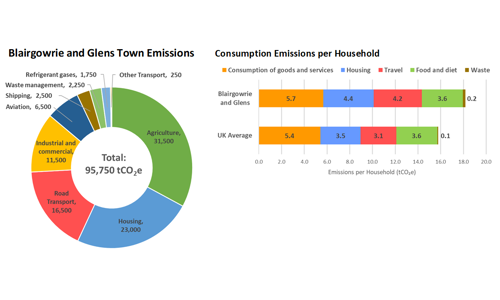 Climate change will affect us all in the future, disrupting food supplies, giving us more extreme rainfall, heatwaves and storms, and rising seas to name a few. The more action we take now the more we can suppress these impacts for ourselves and our children.
PKC aims to reduce carbon emissions by 75% by 2030 and to net zero by 2045 and it has already successfully reduced emissions by 44% since 1990 to 953,000 tCO2e/year. The recently launched Climate Action website www.pkclimateaction.co.uk shows this info and how PKC is delivering further action, as well as guidance on how to take
action at home and work, mapping of climate projects and community groups, funding opportunities, climate related events... and more. But what about Blairgowrie? Where are we at and what can we do about it in our community?
Blairgowrie and Glens Carbon Footprint
The Impact Tool impact-tool.org.uk, created by the CSE and the University of Exeter, provides an estimate of a community's local carbon footprint using more than 30 national data sets. It shows the Blairgowrie and Glens Ward to have a total township carbon footprint of 95,750 tCO2e/year, and average household consumption emissions of 18.2 tCO2e/year.
(Township or territorial emissions represent all emissions from within the Ward boundaries, whereas consumption per household emissions come from what we use and consume in our daily lives. These don't exactly match up with each other as many products are exported e.g. agriculture, or imported into the area.)
Most township emissions come from agriculture, housing or road transport, although aviation represents a large proportion for how infrequently it is used.
Consumption per household of 18.2 tCO2e/year is slightly higher than the UK average of 15.8 tCO2e/year, especially from housing by 0.9t and from travel by 1.1t. Potentially due to being a more rural community and with older, less insulated buildings than other parts of the country. The consumption of goods and services is also 0.3t higher and waste double that of the UK average.
• Housing carbon footprint (4.4t) consists mainly of gas 2.3t and electricity 1.3t.
• Travel carbon footprint (4.2t) consists of car travel 2.3t, flights 1.3t, and public transport 0.6t.
• Food and diet carbon footprint (3.6t) consists of meat and fish 2t, and all other food and drink 1.6t.
What can we do?
At a township level we could support or lobby for; better and lower cost public transport, government to help insulate our houses, or for agricultural practices to be as sustainable as possible.
With our own household consumption, we could catch up or even surpass the UK average with a focus on areas such as transport, insulation and energy use, food consumption, and waste.
Transport
50% of car journeys are under 2 miles. If all short journeys were done on foot, bicycle, bus or shared car, emissions could be cut by one sixth – with no need to sacrifice the freedom to use the car for longer journeys.
Everyone enjoys getting away from it all, but just a couple of flights can represent a significant part of your annual carbon footprint. A return from Edinburgh to London emits 0.27t whereas going by train only emits 0.05t. A return from Edinburgh to Florida is 2.07t per person! A journey through Europe by train could be as much of a holiday as the destination and give you a lot more to see along the way, and Scotland has so much to offer with family staycations.
Insulation and energy use
Adding insulation or draughtproofing to your house or using heat controls are some of the best ways to reduce energy bills. Draughtproofing can be cheaply DIYed and using heat controls is free. There might be grants or interest-free loans to help pay for these if you cannot afford upfront costs for things like extra insulation. You may be eligible for Home Energy Scotland's 0% loan that includes 40% cashback for some measures or up to 75% for certain renewable heating systems. https://www.homeenergyscotland.org or https://businessenergyscotland.org for businesses or charities.
The Blairgowrie Heat project can provide free, professional energy advice to those in the area and talking to Craig or Martin is a great place to start! www.theheatproject.org
Food consumption
Reducing meat, fish and dairy consumption is one of the most effective ways of reducing a household's carbon footprint behind switching to an electric car or replacing a gas boiler with a heat pump. It would also free up more land as around 75% of the world's agricultural land is used for livestock or animal feed. Even just one meat free day a week could have a huge impact, if everyone in the UK were to have meat free Mondays it would be the equivalent of taking all cars off the road for the whole day!
Waste and Recycling
9.5 million tonnes of food waste comes from UK households and businesses each year which creates emissions equivalent to 10 million cars or 5% of the UK's territorial emissions. Cutting food waste can save money too, up to £500 per year for an average UK household. Shopping at BaRI Food Store at 55 High St is a great way to reduce supermarket waste and save money!
www.facebook.com/BaRIFoodProject
Avoiding other waste through recycling also really helps. Nearly all packaging can be recycled these days in either your Blue Bin or at recycling banks for aluminium foil or glass, or at supermarkets like Tesco or Co-op for soft plastics. The Nest shop-workshop at the bridge is also a great place for reusing materials to create new crafts. www.nestcreativespaces.co.uk
If you would like to know more about what we can do or get involved please contact us through info@climatecafeblair.org.uk or join our Facebook group Climate Café Blair.
Useful Local Links
Businesses advice and support - www.pkclimateaction.co.uk/at-work
energysavingtrust.org.uk/business
Home advice and support - www.theheatproject.org
www.pkclimateaction.co.uk/take-action
Food - www.facebook.com/BaRIFoodProject
Recycling and creativity - www.nestcreativespaces.co.uk
Find out your own personal carbon footprint at footprint.wwf.org.uk
Climate Café Blairgowrie, Rattray and District
www.facebook.com/groups/climatecafeblair
Previous Posts
What should PKC's priorities be on climate a... Read More >
Taybank Growers are holding an open day on J... Read More >