Save Rattray Hall
Help us keep Rattray Hall available for the community
---
Progress
Pledges to date = £40505 (latest pledge 9 February 2021)
Percent = 81.01%
£50,000
Update 9 April
We have been in informal discussions with the Hall Committee/Church of Scotland and have emailed our pedgers on 6 April 2021 with an update and to ask their thoughts on options.
---
Background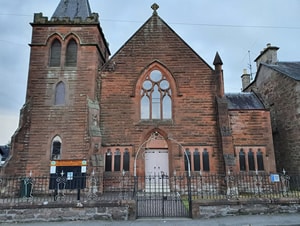 Please pledge your support to save Rattray Hall.
Rattray Hall is about to go on the market, with your help we would like it to stay in the community, for the community.
Rattray Hall has served our community well for years under an array of superbly talented and community minded individuals. We would love to carry on the good work and allow the hall to remain at the community heart of Blairgowrie and Rattray.
Proactive Communities Rattray Church Hall Vision:
Rattray Hall has hosted many community groups, events and private functions over the years and has the potential to support our community for many years to come. Buying Rattray hall means that the current hall users have a home for their group or event for as long as they need one. We would also be able to open our doors to more groups who may be struggling to find somewhere to host – particularly due to the closure of venues such as The Royal Hotel. Up until February, The Royal Hotel was a home for 19 of our community groups and support networks.
Currently, Rattray Hall is rarely used at weekends. Buying the hall would allow us to offer a venue for indoor events and private functions, particularly during the winter months. Rattray Hall currently has a wonderful committee and hall keeper and we wish to learn all we can from them. We would propose to put in a "shadow" management committee in the first instance. This would allow for the knowledge to be passed from one generation to the next and be a successful transition for Rattray Hall. We are keen to support Rattray Hall and allow it to grow for the benefit of our community. Help us realise our vision to save Rattray Hall and bring a welcome boost for community groups across our town.
Can You Help?
Help us buy Rattray Hall and keep it for community use.
Would you be able/willing to pledge money towards the purchase?
If yes, please pledge an amount below or call Samantha on 07936 067 294.
We hope to raise £50k+ which will also help Rattray Church.