Climate Cafe monthly talk
Time/Location: Monday 17 February -
Meeting Location:
Outside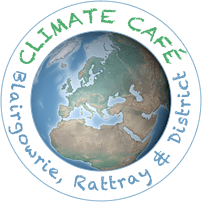 ---
Our next Climate Conversation will take a look at food, the environment and poverty. Keesje Avis-Crawford, currently of Nourish Scotland and a long time member of the Climate Cafe movement recently recorded a brief but very interesting talk on food for the Scottish Climate Assembly and has given us permission to show it. She will also join us for the Q&A session.
Our own Proactive Communities (Steve and Lesley) and the Green Way/NeighbourFood's Noeleen will also tell us about their work in and around Blairgowrie.
There are currently 2 community gardens being planned in Rattray and scope for orchards across the area.
We want these talks to inform us on what is being done and on plans for the future but above all we want them to inspire us to develop some more food initiatives in Perthshire.
Please join us by emailing: info@climatecafeblair.org.uk for the link.