Climate Cafe meeting Wednesday June 16th starting at 7pm
Time/Location: Wednesday -
Meeting Location:
Outside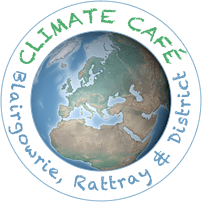 ---
This month we will be joined (on Zoom) by Jess Pepper who started the Climate Cafe movement some years ago (6?) and is very active on many environmental fronts. As well as working for "Transform" which is engaged in decarbonising our transport systems, she also coordinates the Birnam and Dunkeld Climate Cafe, has just set up a website and social media for all the Climate Cafes (currently there are 9) and is engaged in planning the participation of Climate groups in COP26. We have asked her to tell us about the latter and ways in which we can get involved in making sure the event has maximum impact. There will be lots to discuss around this.
As if that weren't enough, we will follow up last month's discussion about pollution (and the need to reduce it!) Gavin Thomson is the Friends of the Earth Scotland campaigner on air quality and will tell us what FoES is doing and how we can support their work locally.
If there is any time left, we will update each other on work in progress.
As ever, please get in touch (info@climatecafeblair.org.uk) if you would like to join the meeting.